« Processes
Managing Product Delivery
The main point about PRINCE2 Agile is that it's tailored to be compatible with the use of an Agile method in the delivery layer. One can expect PRINCE2 Agile to elaborate on the Managing Product Delivery process, or even break it down into multiple processes, to take a real step forward into the tailoring path; but it's not the case. In contrast, the advice given and the level of tailoring in this process is minimum, even compared to other elements in PRINCE2 Agile.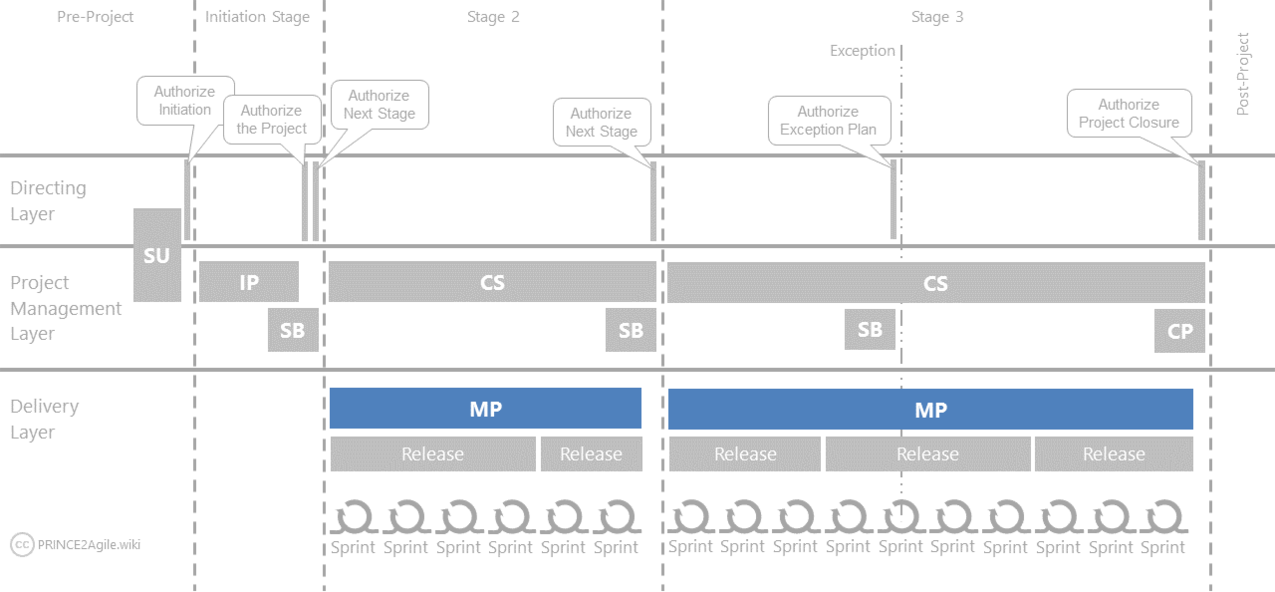 Delivery methods that can be used
PRINCE2 Agile is supposed to support every Agile delivery method. This is one of the reasons that it's not tailored enough to make it clear, for example, how to use PRINCE2 and Scrum together in the real-world.
Besides the chartered goal, PRINCE2 Agile almost always assumes you're using Scrum, since it's the most common Agile framework. This is so embedded that Scrum roles such as Scrum Master and Product Owner are always mentioned in the official manual, as if they are default roles in Agile. However, those are not officially accepted in the Organization theme.
Kanban is also mentioned in the manual. Its biggest difference with Scrum is that Kanban is a flow-based system that doesn't use timeboxes.
The next mentioned method is ScrumBan, which is a combination of Scrum and Kanban with shorter than average Sprints. Although, there are different, contradictory definitions for the term ScrumBan in the Agile community.
The next important method is DSDM, which has had a great influence in PRINCE2 Agile. Many of the PRINCE2 Agile approaches, such as those applicable to the contracts, are similar to that of DSDM. PRINCE2 Agile should be able to support DSDM in the delivery level; however, since DSDM has a complete governance and project management system by default, it doesn't seem helpful to make such a combination.
The last method that is mentioned for product delivery is the Lean Startup. However, the Lean Startup is not a delivery method, but rather an Agile strategy for managing a new program or portfolio. It can be used in a layer above PRINCE2, or in the higher levels of PRINCE2 management hierarchy, instead of the delivery layer.
See Also
External Links
Written by Nader K. Rad
This is (and will be) a work in progress: More details will be added in the future, depending on the feedback.
This wiki is developed and managed by an accredited trainer, independent of AXELOS. While aligned with their guidelines, it's not an official resource.